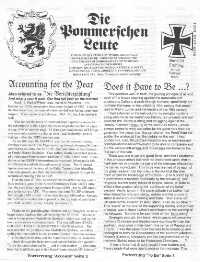 Featured Article:
Does It Have To Be ... ?
"This questions was, in truth, the guiding principle of all and each of the forces reacting against the autocratc and aristorcratic Catholic church though humans, specifically our nothern Germans, in the unfolding of the 15th century ..."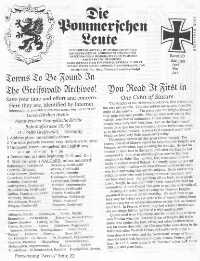 Featured Article:
You Read It First In One Cubit Of Stature
"The Knights of the Order were colonists, that is true; and not very nice people. Colonists seldom are as seen from the angle of the natives .... I'm pretty sure the Knights thought they were very nice people. After all, they were saving the natives from eternal damnation."
Volume 20 Issue 1 Spring 1997
Does It Have To Be ... ?
Highlighted Reference Helps
You Really Stuck?
Can't Go To Find It?
Hung Up On Plattdeutsch>
Sometimes Like Pulling Teeth?
Picture Postcard Scenes
The Holi - Holy - Holly Days
Vadder Unser (Plattdeutch Poem)
One Family's Solution
Das Vaterunser (Lord's Prayer In High German
Where Is The Internet
Whence Cometh Email?
Some Reassurances
More Towns And Kreise
Jig Saw Puzzles and Puzzlers
What Is The Video Like?
Camminer Heimatgrüsse
Is That Cammin - With A K?
Froelich'n Wienach'n Un n' Blied'n Neei Jahr!
Defenestration Of Prague
Speecing Of Accounts
Vergangenheitsbewältigung
Pommern Church Records
Volume 20 Issue 2 Summer 1997
You Read It First In One Cubit Of Stature
Towns To Be Found It The Greifswald Archives!
One More Millennium
The 97 Theses
That Genealogy Chart
Somebody Asked! You?!?
Pomeranian Wedding Customs
It Scares Me To Say
A Platt Valentine
Appreciate The Interest
Polish Nameing Practices
Handling Email
Martin Luther's Force
The 95 Theses (or a meer 91)
Never Look Back?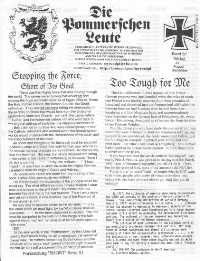 Featured Article:
Stopping The Force; Short Of Its Goal
"All honor and recognition for the break must be accorded to Martin Luther and those that rode for their own reforms in the secular national changes on his coattails."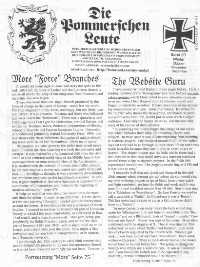 Featured Article:
More "Force" Branches
"The true originator of this force, seemingly, was not Luther. It was Erasmus. Erasmus and those who followed him were called the 'humanists'."
Volume 20 Issue 3 Fall 1997
Stopping The Force; Short Of Its Goal
Too Tough For Me
From The East Looking West
Another German Site
The "900" Years
Syllabus For 1996 FEEFHS Convention - Baltic Germans: The Persistent Pioneers
You Know That
2 Axioms Of Science
Converstations On The Internet
1000 Of Anything Is A Lot
Well, This Helps
How Do You Respond?
A Word About The Internet
Another Look At Plattdeutsch
9 Areas Of German
Europaregion Pommerania e.B
The First 1000
Volume 20 Issue 4 Winter 1997
More "Force" Branches
The Website Guru
Fair Warning From Friends
Another Look At Plattdeutsch
I Love This Book
The Year 1200 +/-
Copyright Infringement
I Am Not One Of Them
Some Encouragement
Points About "Rationalism"/LI>
"The German Way"
The "Newsgroup" In The Internet
Demographic Delineation
Wouldn't You Know
Achtung - LDS - Attention
Oh, My Goodness!
'Tis Time For FEEFHS
By Gosh! It Works
Why Should It Be?
Religious Experience Is A Progressive Revelation
The Year 1100 =/-
"Seeking" - Yesterday's Poem
It is No Wonder ...