The Old Lutherans in Pomerania
Who Were They? Why Did They Emigrate?
by Rob Bowe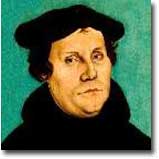 After the Reformation, if you lived in northeast Prussia, your faith was determined to a high degree, by which reformer, Martin Luther or John Calvin, the ruling feudalistic prince of an area (manor) embraced.
From these post-reformation beginnings the Lutheran and Reformed (Calvin churches became the largest churches in Northeast Prussia with province Pommern being predominately Lutheran. The two churches, Lutheran and Reformed, handled many civil responsibilities including the registrations of marriages, births, deaths as well as the final care for the dead and other civil matters.
During the early 1800's as Prussia emerged from feudalism, the majority of the populace were peasant farmers and associated tradesmen who eked out a meager living. They often lived in small villages surrounded by farmland with the house and land owned by a large landowner. These peasant farmers paid a large percentage of their crop to this landowner.

This article is a brief excerpt from Die Pommerschen Leute (The Pomeranian People), a quarterly newsletter designed for people who have an interest in Pomeranian ancestry. Click here for more information.